Top Listed 9 Adventure Activities in Rishikesh Uttarakhand
Camping Packages
Camping is the excellent way to get pleasure from the sweetness of nature with the company of your friends and family. This is the most effective way to spend time and think about someone special. Throughout your camping stay in Rishikesh you can enjoy several fun & adventure Activities like: River Rafting, Rock Climbing, Hiking, Trekking, Bungee Jumping, Zip Line, Flying Fox & Rappelling. Camping is a recreational activity that doesn't have any ordinance.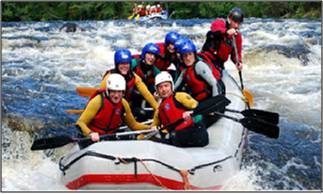 River Rafting
White water River Rafting is one of the main adventure activity carried out in Rishikesh. In true words due to the river rafting rishikesh known as adventure capital of India later other activities taken places here by looking their bright future. Thousands of tourists every year from different places of the India, moreover from foreign countries come to get pleasure from river rafting. In present three points are famous for River rafting those are Marin Drive, Shivpuri & Brahampuri.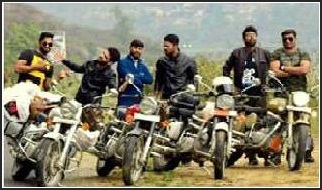 Bike Rent & Tours
Renting or hiring a scooters/ Motor cycle is one of the cheap and best ways to make a fun along the diving experience in the adventure and holy city Rishikesh. Krishna Holidays is best places to hire a bike/scooter on rent and making a bike tours for Uttarakhand Himalayas. Normally bikes/ scooter are rented on per day basis Morning 9 am to next day 9 am but we can extend the timing on additional charges.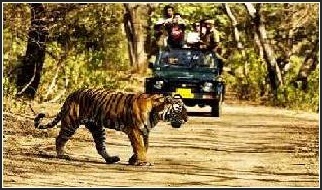 Wildlife Safari
Wildlife Safari gives an opportunity for nature lovers to visit attractive Animal Life in Chilla range of Rajaji national park. Rajaji National Park has a total area of 820 sq. kms and touches the boundaries of Dehradun, Haridwar & Rishikesh. Haridwar & Rishikesh are nearest cities. This place is incredibly popular for Tiger, Leopard, Elephant, Monkey, barking deer, wild boar and Antelopes like the Goral etc can be seen here.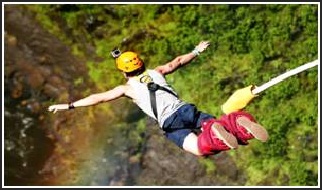 Bungee Jumping
Bungy Jumping is a die heart activity that involves jumping from a tall structure over the River (Subsidiary river of Ganga). It is one of the most challenging activities for all those that live every moments of life with adventures & challenges. It is such a undoubtedly can beat your heart. The Jump is operated from a tall fixed platform with a height of 83 meters which is roughly 273 feet.
Flying Fox
Flying fox providing you the Asia's largest flying distance of 1 kilometer. During the activity you are controlled by the cables and released by gravity to speeds of a 160 kmph over the small Hewel River and then returning to the down at the lowest point. Feel the air gushing past. You are forced back to the launch platform by a retrieval mechanism. Walk back to the cafeteria and collect your pictures & video of the activity. Normally 3 people participate in flying fox but can be done alone at an additional cost.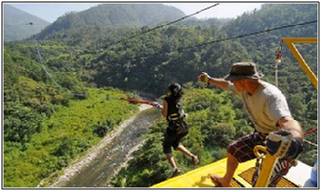 Giant Swing
If loves adventure and trying out new adventures, then Giant Swing in Rishikesh is a must do for you. You need guts to jump, but the experience is exhilarating. Swing is done from the same Bungee Jump's Platform. After an initial briefing you are taken for free fall, the ropes then smoothly swing you. After the Giant Swing, jumpers are lowered down to a dropping area over the river which has only 2- 3 fit of water.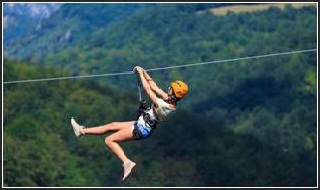 Zipline
Zipline activity is a best option for those looking for extreme adventure in Rishikesh. This is a River crossing activity and a perfect way to explore the mountain views over the River Ganges along the thrilling adventure. There are two suspended cable mounted sloppy across the river typically fabricated from stainless-steel. In this trip you are harnessed to the wire and by holding on to freely move to another side by gravity release up to 400m long. This tour takes around 25-30 minutes.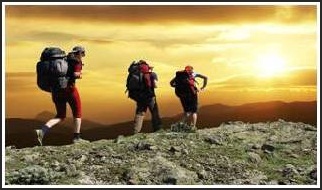 Himalayan Trekking
Trekking in Rishikesh Uttrakhand is the name that comes in the mouth of all adventure seekers. It gives you wide views of Mountains range and natural beauty with snow covered Himalayan peaks along the big small waterfalls. Uttarakhand is a land of famous challenging treks. To enjoy day trekking trips near Rishikesh, Neer Gaddu Water-Fall Trek, Kunjapuri Temple Trek, Patna Water-Fall Trek etc. are the best places.
Back To Home