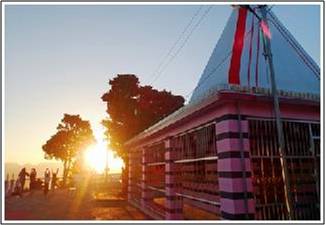 Same Day "Kunjapuri Devi Temple Trek"
The Temple is localised to Rishikesh city and very popular among tourist for Day Hiking of 14 kms. Many tourist love this trek due to the timing and the schedule like: Eearly morning start by cab with packed breakfast then park car & climb around 300 steps to the temple. By reaching at top visit beautiful Sunrise and then visit the temple then have breakfast and spend some time later start 14 Kms trek to the down hills and reach at Waterfall. Here take bath and further trek down for a short then get the cab to the Hotel. Have lunch and relax later proceed for sightseeing with evening ceremony Ganges Arti.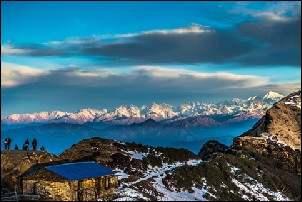 1 Night 2 Days "Nag Tibba Trek"
Nag Tibba is believed to be the place of 'Nag Devta' the god of Snacks and it is the highest peak in the lesser Garhwal Himalayan with an altitude of 3,022 metres (9,915 ft) Uttarakhand. The trek is well known for the day hiking tour and offers a short trek. To make weekend holidays joyful Nag Tibba trek is a best option for those looking inexpensive short trip. During the Winters the weather is chilly, almost full of snow and in summers pleasant weather welcome you, this all thing making it an impressive place for camping. The trek passes through dense jungles give you a panoramic scenic beauty of Garhwal.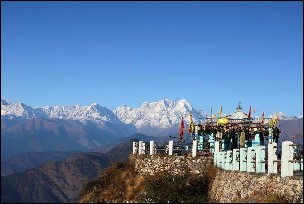 1 Night 2 Days "Kartik Swami Temple Trek"
This is called a beautiful short and day spending nature trek. Kartik Swami is said to be an elder son of Lord Shiva and the temple situated here is a witness of many famous mountain's peaks those can be visited by a 360° view. This trek can also be enjoyed with other Garhwal Treks like Chopta, Tungnath, Chandrashila, & Deoriatal Trek and with the Legendary Kedarnath Temple as well. The trek starts from the Kanak Chauri village and this village located between Pokhri – Rudraprayag route. It is 40 Kms away from Rudraprayag. The 7 Kms trek (Up & Down) from Kanak Chauri village offer a landscape views of majestic Sunrise & Sunset.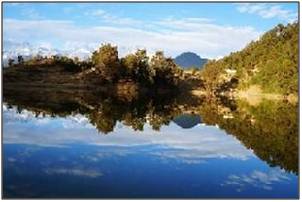 2 Nights 3 Days "Chopta - Chandrashila Trek"
This is a one of the famous short Himalayan Treks generally said to be 3 days trek but can be raised up to 4 days by adding DeoriaTal Lake trek. The reason behind the popularity of this trek is untouched destination which is lying in the lap of the Himalayas. It offers impressive views of Himalayan ranges including Nanda Devi, Chaukhamba and Trishul. Many species of beautiful Birds can be seen here and hence Chopta is becoming famous destination among bird watchers. The trek to Chandrashila is considered as moderate level. The Chopta region offers many other trekking trails passing through its forest and grasslands.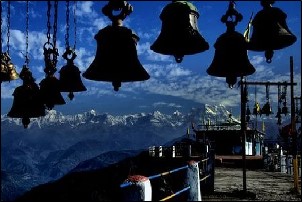 3 Nights 4 Days "Chopta - Kartik Swami Temple Trek"
This is a wonderful combine trek of two awesome locations which give you a pleasant surprise in form of happiness to be at such a place which one can't predict. The trail of mountains full of beautiful surroundings, nature and green lush forest contribute to make our feel to be at ultimate destination in the world. Some where we feel the "Mini Switzerland of India" at Chopta and somewhere its gives us pleasant 360° compete view at Kartik Swami Temple. The best thing is with this trek that it gives a additional two more famous points as "Tungnath Temple" and "Deoriatal Lake".
4 Nights 5 Days "Kedarnath Temple Trek"
The reason behind popularity of the Kedarnath trek is It is one of the four pilgrimage destination of Hindus and Indian Govt. supervise the pilgrimage every years. There is a Lord Shiva's temple called the Kedarnath temple, by reaching at temple one can see panoramic views of Himalaya and can feel the fresh air of Green Mountain that seems to be green heaven on earth with divine energy. This trek can be done in April mid to June end then September to mid-November. This trek is one of the most beautiful treks of the Garhwal Himalaya done by Indians as well as foreigners.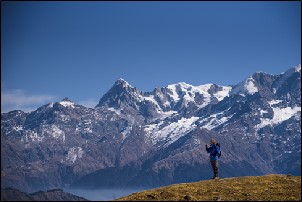 5 Nights 6 Days "Dayara Bugyal Trek"
Dayara Bugyal is considered to be one of the most beautiful breath-taking treks of Uttarakhand. The Dayara Bugyal located at an altitude of 10,000-12,500ft in foot hills of Garhwal Himalaya. The lush green highland meadow here serves as an awesome destination for skiing lovers in winter season. This fabulous meadow spread over the 282Km in front of the towering snow-peaked mountains. The beautiful trek starts from the two side first one is from Raithal Village and second one is from Barsu village both are situated on the Gangothri road approx. 32 Km away from Uttarkashi town.
7 Nights 8 Days "Gangotri - Gaumukh - Tapovan Trek"
This is the one of the longest trek in Indian Himalaya takes minimum 7 nights and 8 days to be completed but can be raised upto 9 days, 10 days and 15 days including Nandanvan, Vasukitaal, Satopant peaks etc. This trek is called Glacier Trek and one of the famous Glacier Trek carried out in India Himalaya. The elevation of the trek is around of 4023 mtrs from sea level gives you the opportunity to see the lovely beautiful creation of nature. It looks like a heaven on the earth with highest white Himalayan peaks, Snow covered mountains and much more. This trek can be done in April mid to June end then September to mid-November.
Back To Home