List of Top 9 Sightseeing Places to Visit in Haridwar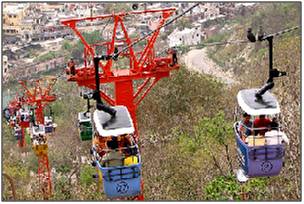 Chandi Devi Cable Car Temple
Chandi Devi Temple dedicated to Goddess Chandi Devi located at Neel Parvat on the Sivalik Mountain in the foothills of Himalaya. The Temple was built by the Kashmir's King Suchat Singh in 1929. However the idol of the main deity at the temple installed by Adi Jagad Guru Shankaracharya in the 8th century. The Temple is situated at a distance of 4 Kms from Har ki Pauri and to reach the temple there are 2 ways, one by trekking route of 3 Kms from Chandighat and another by cable car (ropeway).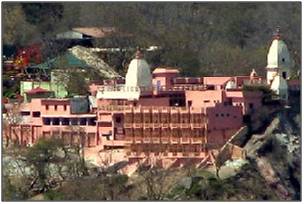 Mansa Devi Cable Car Temple
Mansa Devi Temple dedicated to goddess Mansa Devi located at the Bilwa Parvat on the Sivalik Mountain in Uttarakhand near the Hare Ki Pauri. The deity is said to emerge from the mind of the God Mahadev. Devotees come here to the wishes and for this tie threads to the tree's branches as a sign of promise and after fulfilling their wishes they come back again to the temple to untie the thread from the same tree's branches. To reach the temple people follow the trekking route or cable car rope way service.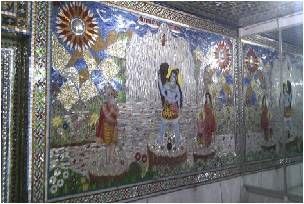 Pawan Dham Temple
Pawan Dham is a one of the most famous tourist attractions of the Haridwar city is a huge temple well known for its amazing glass work on the walls and ornamental Idols in the temple. It is a non-profitable organisation and a branch of Geeta Bhawan Trust Society. The founder of the temple was Swami Vedantanandji. The temple is located at only 2 Kms distance from Haridwar. Tourist can easily reach to the Pawan Dham by taking a Tuk-Tuk or personal Cars.
Daksha Temple Kankhal
Daksha Temple is also known as Daksheswara Mahadev located in Kankhal a small town in the Haridwar District of Uttarakhand. The temple is around 4 kms away from Har Ki Pauri. The is mentioned in many different legends and Hindu holy books got its name Daksha Temple after Daksha Prajapati was the father of goddess Sati the first wife of Lord Shiva. The present temple was built in 1810 by Queen Dhankaur and renewed in 1962. The Tantra Vidya also performed here during the Navratri celebration.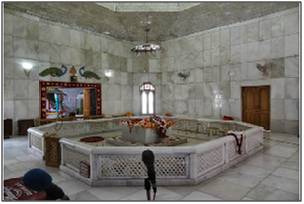 Maa Anandamayi Ashram
Maa Anandamayi Ashram is a nice place to visit and to feel real saint's energy. It is a place of spiritual energy located in Kankhal Haridwar just 7 Kms away from Har Ki Pauri near the Daksha Temple of Lord Shiva. This Ashram is very famous among foreigner as well as Indian visitors looking spiritual energy and want to feel this. Sri Anandamayi Ma widely recognized as a spiritual personality was from Bengal. A focal point of her teaching is "Every human being is to aspire to self-realization".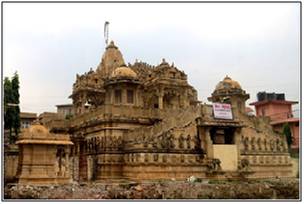 Jain Temple
Shri Parshwanath Jain Temple is one of the most beautifully sculptured temples in Haridwar popular for its art design and beautiful huge campus made up by yellow stones brought from Rajasthan' Jaisalmer. The temple is most visiting places came into being in 1990's. It is a two-storied temple, on the first floor there is a main idol in black colour of Bhagwan Shri Chintamani Parshwnath in Padmasan posture and on the ground floor there is an idol of first Tirthankar Shri Aadinath Bhagwan made up of white marble stone.
Shantikunj
Shantikunj is a well-known social organization located in Haridwar. It is a tourist place and an attraction for those seeking spiritual guidance. It is established in 1971 with a mission of Movement for the Reconstruction of the Era (Yug Nirman Yojana) for spiritual regeneration in the light of Indian heritage. Pandit Shriram Sharma was the founder of Shantikunj. Shantikunj has been visited by many great leaders and saints, including late president of India Dr. Abdul Kalam, Baba Ramdev, Dalai Lama and many more.
Har Ki Pauri
Har Ki Pauri is a very famous place and Ghat to take a holy dip into the Ganga River in Haridwar. It's located on the banks of the Ganga River. Her means Lord Vishnu and Pauri mean steps hence steps going towards heaven. The area of Hari ki Pauri is considered as a most sacred place and also known as Braham Kund. It is believed that that before going to Char Dham Yatra in Himalaya (Uttarakhand), taking a holy dips into the River Ganga at Hari ki Pauri Ghat make pilgrimage Successful.
Ganga Aarti
Ganga Aarti is a prayer dedicated to Goddess Ganges carried out every evening in front of the Ganga River in Haridwar at Har Ki Pauri Ghat. It attracts tourist from all over the worlds. During Ganga Aarti devotees sing Bhajan, Aarti, Kirtan and enjoy the divine energy that calm their mind and take them into the deep relax. It is a ritual performed by offering of Diyas (light), flowers and incense etc. to the River.
Back To Home