List of Top 11 Adventure Spots in Rishikesh Uttarakhand
Hot Air Balloon Ride
Hot Air Balloon is a newly added one of the important family based sport in Rishikesh Uttarakhand. Since we included this air balloon activity we are receiving many good feedbacks from tourist once they have taken air ride. This can be said a family adventure sport because in this trip all family members of any age group can participate. There are 2 different timings depends on seasons. In winter 9 am to 4 pm and summer 5 am to 10 am and 5 pm to 7 pm.
Camping Packages
Camping is the best option to stay in Rishikesh rather than Hotels because tourists always stay in hotel while on trips but in Uttarakhand you get an opportunity to stay in nature during your adventure tours. Camping contributes a big role in Adventure tours in Uttarakhand and held in forest or riverside that makes your tour amazing. River rafting on Ganges and camping are two different things but without any of them your tour package looks not worthfull.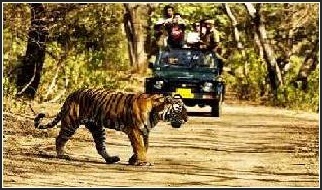 Wildlife Safari
Chilla division of Rajaji National Safari Park now became the Tiger Reserve Park. It is the subdivision of Corbett National Park which is located in Ramnagar in Uttarakhand. The best thing of Rajaji Chila Park for tourist visit wildlife tour, due to the small area of 820 km² there is much more possibilities to visit Tigers, Leopards, Elephants, Dears and many more animals. Before entering into the park you need to take a tickets and confirmation of your tour & visit booking.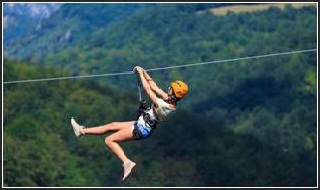 Zipline
Zipline is a River crossing activity in Rishikesh. If you want to cross the Ganga River Zipline may be a perfect way. It can be an adventure for you because flying only on wire it is not less than an adventure. In this trip you are harnessed to the wire and with the hand support by gravity release up to 400m long. Tour takes appox. 25-30 minutes including briefing and trial along zip tour.
Paragliding
Rishikesh is proud to inform tourist added one more extreme thrilling adventure Air adventure Safari activities. This is going to be a best way to feel an adventure from sky and explore the natural beauty of surrounding areas of Rishikesh with green forest, River and foothills of Himalaya. In air safari you are taken to the heights of sky by electric parachutes driven by the experienced pilots. This ride can be done by 1 person + 1 pilot take the time around 10 – 12 minutes.
Flying Fox
Flying fox gives you the opportunity to feel the adventure flit over the Hevel River (Small River) in Rishikesh. During your activity you are harnessed to the ultra-strong cables and you are released at the speeds of 160 kmph to the point by gravity. The flying fox normally done by 3 people together but on extra price can be don solo or alone. Here in Rishikesh you enjoy 1.5 kms ride.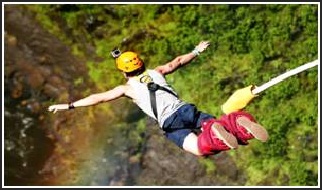 Bungee Jumping
Bungee jumping gives you the experience of the most extreme adventure which is operating by the team of New Zealand in Adventure city Rishikesh in Uttarakhand state of India. The activities are operated from a fixed platform that has a height of 83 mtrs. After the Bungee Jump you are lowered down to a dropping area over the Hevel River (tributary of Ganga River) that has around 2 – 3 feet water. Along Bungee you may also enjoy Flying Fox and Swing on extra cost.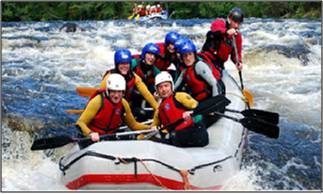 River Rafting
Enjoy the life time experience of River rafting on Ganga River in Rishikesh that starts from September month and continues till June end. December to February in the winter time, temperature of Rishikesh makes it very challenging that leads to the fun with extreme adventure of gurgling rivers. Brahampuri, Shivpuri and Marin Drive are the 3 main stretches to have a fun with challenges in Rishikesh. So book your tour now and feel a real challenge with great daring.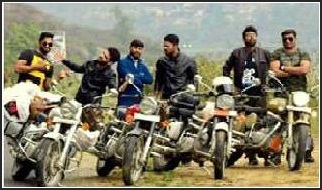 Bike Rent & Tours
Krishna Holidays is one of the best places to get bike/scooter on rent and make tours. Hiring a bike or scooter is the best way to explore the nature beauty and tourist attractions in Rishikesh. If you want to spend your time with your friend, riding a bike gives you the opportunity to drive self and shares your thoughts with your beloved one. This is a cheap & best way to visit a city and also a preferable means of transport. You can get a bike for rent in Rishikesh on a per day basis morning 9 am to next day 9 am.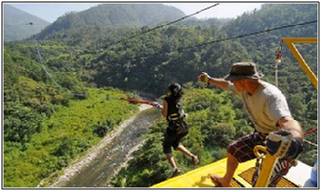 Giant Swing
If loves adventure and trying out new adventures, then Giant Swing in Rishikesh is a must do for you. You need guts to jump, but the experience is exhilarating. Swing is done from the same Bungee Jump's Platform. After an initial briefing you are taken for free fall, the ropes then smoothly swing you. After the Giant Swing, jumpers are lowered down to a dropping area over the river which has only 2- 3 fit of water.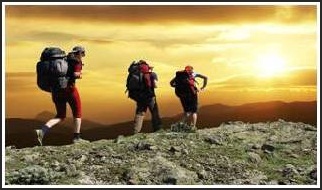 Himalayan Trekking
Uttarakhand state of India is well-known as Dev Bhumi (The land of Gods) like a heaven for those love nature and challenging adventure. Uttarakhand is famous for many challenging trekking places. There are innumerable treks in Uttarakhand that take you to various small big towns, temples, lakes, glaciers and natural waterfalls.
Back To Home