Top 10 Sightseeing Places in Rishikesh
Luxman Jhula
Laxman Jhula is the main Tourist attractions and landmark of Rishikesh. It is located at the next side of another famous bridge Rama Jhula. It is a Suspension Bridge across the River Ganga With a length of 450 feet and height of around 70 feet from the river and built in 1929 by British government. According to Hindu mythology, this bridge is built at the same place where Laxman did penance.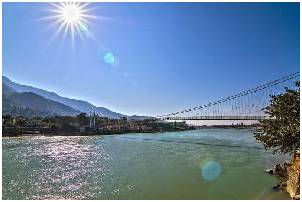 Ram Jhula
Ram Jhula is another popular Bridge in Rishikesh known for beautiful Ashrams, Temples and views. Ramjhula is situated 3Km north of Rishikesh main market. It is a suspension bridge built by Indian Government in 1986 over the River Ganges. There are very popular Ashrams like Geeta Bhavan, Swarg Ashram, Permarth Neeketan, Shivanand Ashram and these are very famous in Hindu society. Many shops are also found that sell various souvenirs in the form of religious tapes, books, Rudraksh Beads.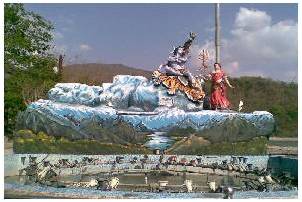 Triveni Ghat
Triveni Ghat is situated on the banks of Ganges River. In earlier time it was a confluence of three sacred rivers - Ganga, Yamuna and Saraswati. In present it is very famous place in Rishikesh has a kilometer-long bathing ghat where several devotees come to take a holy dip. It is belief that those who take a dip in water at this ghat washes away all the sins and purifies the soul and will have salvation, Daily in the morning and evening Maha Aarti is being performed here.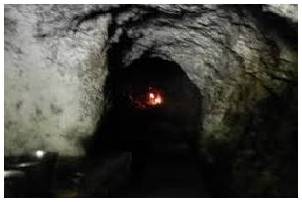 Vashist Cave
Vashistha (Gufa) Cave is of great sage Vashistha. It is very dark inside but very peaceful. This is much popular among Indians and foreigners for divine energy. This cave is located 25 kms far from Rishikesh, after one hour drive up river you will find steps down way then you will reach where famous saint vasishtha Guru (Teacher of Lord Rama) mediated on the banks of the Ganges. Many foreigners come here to visit and to do meditation; the environment is full of divine energy here.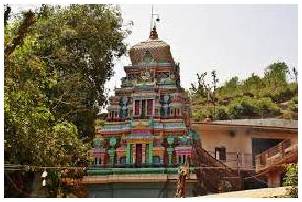 Neelkanth Temple
Neelkantha Mahadev Temple is one of the most important shrines dedicated to Lord Shiva. The Temple is located around 32 km away from Rishikesh positioned on a hill above Swarg Ashram. This ancient temple lies at the confluence of the Pankaja and Madhumati rivers amid three valleys - Brahmakoot, Vishnukoot and Manikoot. Neelkanth temple is also famous for Day Trekking in Rishikesh , Every year thousands of devotee come here to offer Ganges water on Lord Shiva.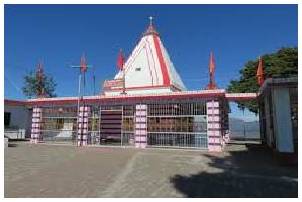 Sunrise/Sunset Kunjapuri Temple
Kunjapuri temple is one of the Day sightseeing points in Rishikesh much famous among the Indians and foreigners, not just because of its story related to gods and goddesses but also for the panoramic view of Garhwal Himalayan peaks like Swarga Rohini, Gangotri at the north side and Rishikesh, Haridwar at the south side and Dun valley at west side and beautiful Sun rise. This is around 29 km away from Rishikesh and situated at an elevation of 1676 mtrs from sea level.
Beatles Ashram
Beatles Ashram or Maharishi Mahesh Yogi Ashram in Rishikesh is one of the mystical attractions in Rishikesh. In February 1968 the Beatles Group of England travelled to the Indian town of Rishikesh to attend a session of Transcendental Meditation at the ashram of Maharishi Mahesh Yogi. Their visit to this ashram suddenly brought Rishikesh in the limelight on an international level and made it a popular tourist destination. Beatles visit also changed the world's opinion about Indian spirituality.
Bharat Temple
Bharat Mandir is an ancient temple in Rishikesh founded by Adiguru Shankaracharya in the 12th century located just near to Triveni Ghat in the heart of the old town Rishikesh. The Inner sanctum of the temple has the idol of Lord Vishnu, carved out of a single Saligram. In the inner canopy above the idol is Shree Yantra. In the premises, there is very old tree looks like a single tree but there are three trees like Banyan, Bel, Pipple Trees intermingled in such a way it is difficult to see as a separate entity.
Ganga Arti
Ganga Aarti is a pleasant ritual of worshipping the Ganga. The Ganga Aarti in Rishikesh takes place every evening after sunset. The ceremony commences with the singing of Bhajans, prayers, and a purifying and sacred ritual that takes place around a fire, with the offerings made to Agni, the fire god. You can sit calmly in a corner and witness the ritual or join the crowds singing Bhajans with them. Rishikesh is a heaven in divinity's lap. As the sun sank lower, preparations for the Aarti looked complete.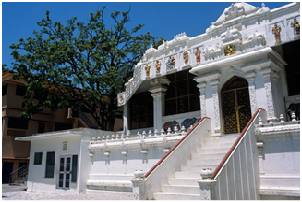 Shivananda Ashram
Shivananda Ashram is an important tourist attraction in Rishikesh known for its divine beauty, Silence and peaceful environment located near Ram Jhula Bridge. Shivananda was a great Hindu spiritual teacher and proponent of Vedanta & Yoga. He was born in Tirunelveli district of Tamil Nadu in 8 September 1887 and came to Rishikesh at the age of 37 years. He started the ashram in small cowshed and stayed here more than 3 decades. Doing social services got heaven in 14 July 1963.
Back To Home