River Rafting in Rishikesh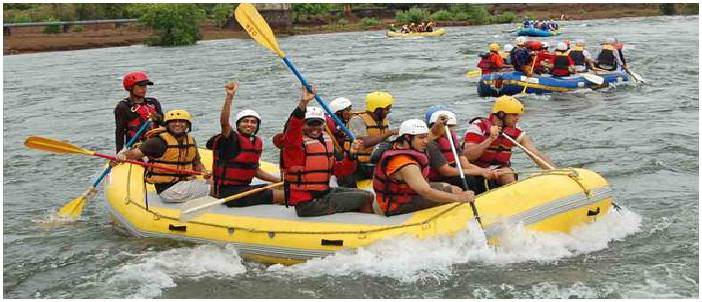 Length & Stretch of River Rafting in Rishikesh
River rafting could be a competitive nature-loving activity and physical way to traverse nature, whereas delving into the nice depths of the stream. That uses an inflammable raft to navigate a river. This is often done on white water or totally different degrees of storminess, and usually represents a replacement and difficult atmosphere for participants. Today River rafting and Camping in Rishikesh became an incredibly common adventure among the all tourists White water rafting are often a dangerous sport, particularly if basic safety precautions aren't determined however currently because the individuals are being conscious of safety and participating in an exceedingly team, they're enjoying. Our Rafting guides well know and extremely skilled in their job, River rafting guide forever attempt to create your adventure trip unforgettable and gratifying. The simplest factor with rafting is its low cost and best and give you a great many health profit like Satiates the thirst for adventure, provides a catchment rush, Reduces stress, Strengthens muscles, wonderful cardio physical exertion, Builds cooperation etc. thus visit Rishikesh and revel in persistent recollections.
Starting Points of Rafting in Rishikesh
1- Marine Drive Rafting in Rishikesh to Neem Beach (Grade IV & V)
Marin Drive River Rafting renowned among the young people, corporate, faculty, students and they are well aware about this Rafting spot. This is often covered in a group and if you have got a previous participation of white water rafting. The floating span is around 24 km and therefore the the duration (4.5 hours) of river rafting as long as one can gratify him or herself. From Marin drive to Neembeach, rafting enjoyment is of moderate level with most risky rapids some of them are 1- Three Blind mice: having a big rapid that can turn the raft, 2- Cross fire: rapid here take raft inside the water, 3- Return to Sender: rapid having the ability to take raft in its round of water, 4- Roller Coaster, 5- Golf Course, 5- Club House, 6- Initiation, 7- Double Treble etc. Throughout this rafting trip one can even attempt Body surfing and Cliff Jumping then trip can end at Neem Beach.

Note: For this Rafting trip, age needed higher than 18 years old.
2- Shivpuri Rafting in Rishikesh to Neem Beach (Grade III & IV)
River Rafting from Shivpuri to Neembeach involve each thrill and excitement that you just need to experience throughout your river rafting trip. During this stretch difficulties are at a moderate level and it offers around 16 km of floating adventure with exciting rapids Some of them are 1- Return to Sender: giant rapid can turn and take raft in its round river, 2- Roller Coaster: up and down rapids 3- Golf Courses as well as Club House.For Shivpuri River Rafting, people should have age above 15+ years and is also appropriate for rafters who have some experience; beginners can even enjoy this trip. Shivpuri used to be a notable spot for Beach Camps in Rishikesh.

Note: For this Rafting trip, age needed higher than 15 years old.
3- Brahmpuri Rafting in Rishikesh to Neem Beach (Grade I)
From Brahmpuri, it is the last trek of rafting to Neembeach that is the best and easy throws rapids like Double Treble, Hilton and Terminator, ranges from grade I to II+. The rafting distance from Brahmpuri to Neem Beach is much common among the people those are fearful of water and rapids, it's simply an expertise of nature and running river offer you a feel of adventure. This Rafting trip is around 9 km supposed for beginners. People of age groups from 7 to 50 years can get pleasure from this expedition. The stretch is ideal for family and student groups.

Note: For this Rafting trip, age needed higher than seven years.